I'm graduating from college tomorrow.
It's a surreal feeling. I've been thinking about it a lot lately, the moment I'll walk across the stage. The thing is, when something's coming to an end, I like to know that it's ending. I really want to feel it. During my last class of my college career today, I tried to take it all in. My last walk to campus as a student, my last final presentation, + I even went to the top of Teacher's College just for one last good look at Ball State's campus (I know, I'm a walking cliché).
I sometimes get caught up in looking at all the things I missed out on in college. That might be because I expected my last day of school to be like the opening scene of St. Elmo's Fire, walking arm + arm with my big group of friends while we all head on into adulthood together (I know how the rest of the movie goes, I'm just talking about the opening scene). I have come to the sad realization that my life is not a movie though (although listening to music on campus makes it feel like it sometimes).
Looking at all that I'm taking away from it though, I'm so grateful for all the opportunities I had. All the organizations I joined, working at the Daily News, traveling all over the state of Indiana for the Torch Relay, all the photos I had published, having my first gallery, + all the connections I've made.
A special shoutout to my professors that have had such a big impact on my life + helped push my photography to the next level (here's looking at you, Martin Smith-Rodden, Chris Flook, Lori Byers, Tom Price, Rene Church, + Ryan Sparrow).
And if I am looking at the positives, there really isn't much I would change about my college experience. I came in my freshman year completely lost, but ready for something new. People are really important to me. I've had a lot of people leave my life over the years + I was so desperate to create some friendships with people that I knew cared about me as much as I did about them.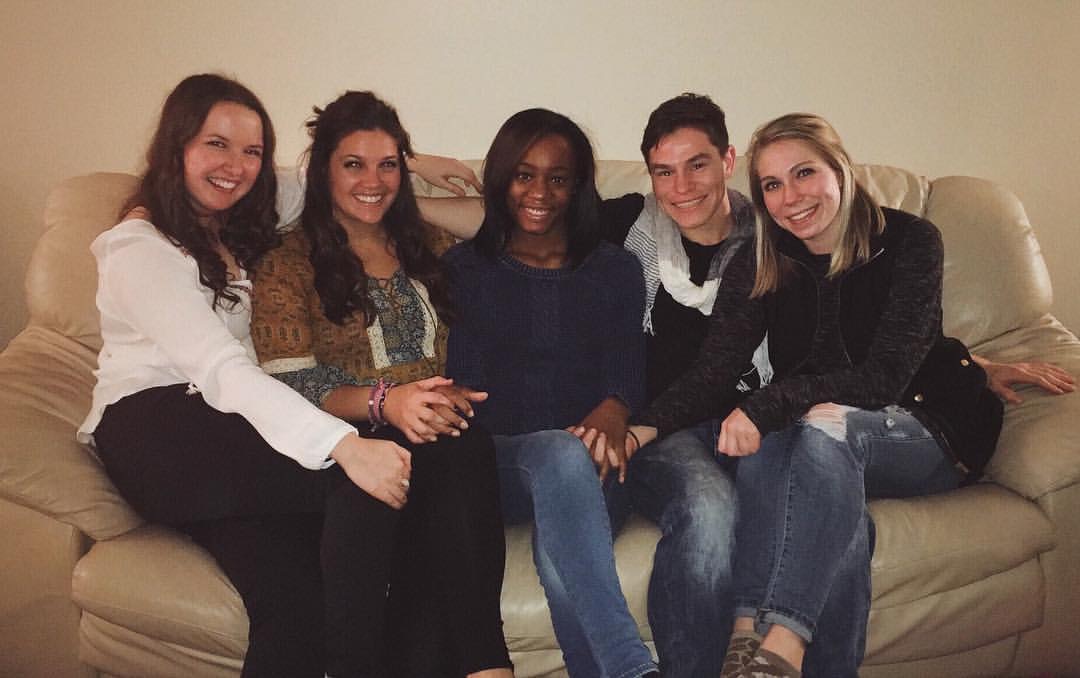 I joined the gymnastics club, despite not actually being allowed to tumble anymore, but I am so thankful I did. Thanks to this club I met four of my best friends. The group of people I was looking for. People that were supportive, watch Disney movies, know everything about Harry Potter, and will dress up for Friendsgiving or put on Christmas sweaters for the holidays. Jorey, Jeremy, Morgan, + Taylor. My college experience would not have been the same without these people. I love you all so much. From exploring the streets of Philly, to saving all year to fly to California, making the best of being in the middle of Ohio, the long car rides, the music festivals, sleeping three deep in tiny beds one too many times, and probably sharing too much personal information about ourselves. Thank you RN's. My slendas.
I also want to thank Bre. You took me under your wing my freshman year + taught me so much about being a photographer + journalist. You intimated me for the whole first year, but once I got past that you became one of my closest friends. I go for you for advice + critiques on everything + I can always trust you to be brutally honest. Thank you for always getting excited about the littlest things with me. And let's be honest, we've been friends since, "let's listen to Drake."
Reagan. I still can't believe we have lived in the same city all this time + we didn't become friends until two years ago. I tell you everything. I complain to you probably a little too much + sometimes think we are actually running our businesses together. We quickly became best friends once we met. You have truly helped me grow so much as a photographer + a person. You've taught me so much + I truly know that wherever life takes us, you'll always be one of my biggest supporters. I hope wherever that is, it's in the same state. All our adventures together + spontaneous trips that turned into some of our best photos (or so we thought... ie. Pokagon). One day we will take our trip abroad (+ if we're really lucky become Insta famous). Thank you for being my other half. My twin.
Getting down to the end, I have to give a big, extended shoutout to my life-long best friend, Whitney. I truly do not know where I would be without you. We became best friends in kindergarten + I really can't think of a moment since then that you haven't been by my side. Through all our ups + downs, you are the one person in my life that has always been there. Thank you for always being my friend, even when I was a nerd + got made fun of. Even when I couldn't always be there. There's been times throughout our life where we haven't gotten to see each other as much, but no matter what we've always done a good job of being there when we needed to. And now, my last semester of college + we are finally roommates. I'll never be able to thank you enough for being there through all the drama, all the problems, and everything in between. Thank you for always letting me be my complete and utter self. You're truly my person.
Brannon. Love of my life. Best friend. You probably won't actually make it down this far, but if you do I'll try to keep this short. Thank you for everything. For being you + staying by my side through all of my drama + issues. You mean the world to me. I can't imagine what college would have been like without you. And I'll try to keep it at that (we aren't big on any form of public displays of affection). You truly mean the world to me.
And finally, thank you to my mom + sister + brother (+ the rest of my family, but specifically these three). You all have read countless papers + assignments. From making me the most perfect schedule all 3 1/2 years of college, to helping learn how to write a news story, + to helping me realize that it's okay to not be doing what everyone else is. You all are my biggest support system + I never appreciate you as much as I should.
And to all the other people I've met or interacted with during my time at Ball State, thank you so much.
It has been a crazy ride + I'm so excited for my next adventure, wherever that may be.